We often talk about the benefits of our 100% Solid State Drive (SSD) storage. Here I'll explain what made us choose the SSD that we use in our data centres: the Samsung SM883.
Up until recently, we were using the Samsung SM863, but we've now started using the SM883 960 GB, their latest upgrade.
Firstly, here's a brief run-down of why we choose to use Solid State Drives for our web hosting.
SSDs – the basics
I'll be brief here – since if you've bought a computing device in the last 10 years you probably know this already.
In an SSD, data is stored in microchips instead of magnetic disks, making them faster than traditional Hard Disk Drives (HDDs). SSDs are more expensive, but higher performance, draw less energy and can be more reliable. Many other web hosting companies use SSDs, but often this is in combination with HDDs, which is one of the reasons why our platform is faster than most.
If data can get through the server's processor faster, it means that it can be delivered to the user's browser faster, so website pages load in less time. This means user experience is improved. As search engines thrive on delivering results that satisfy the user, they also favour faster-loading websites.
Why Samsung SSD?
Samsung are a global brand with a strong reputation for high standards. Despite some missteps – notably with the Galaxy S7 phone – that good reputation remains. That's largely due to their legacy of producing high quality products that goes back to 1938.
From the 1990s onwards, they've been a leader in electronic components, winning multiple awards for their products. The sheer volume of their manufacturing process brings about a consistency in their products: they don't suffer the same variability in quality that smaller companies can sometimes be vulnerable-to [Enough Samsung fanboishness – Ed].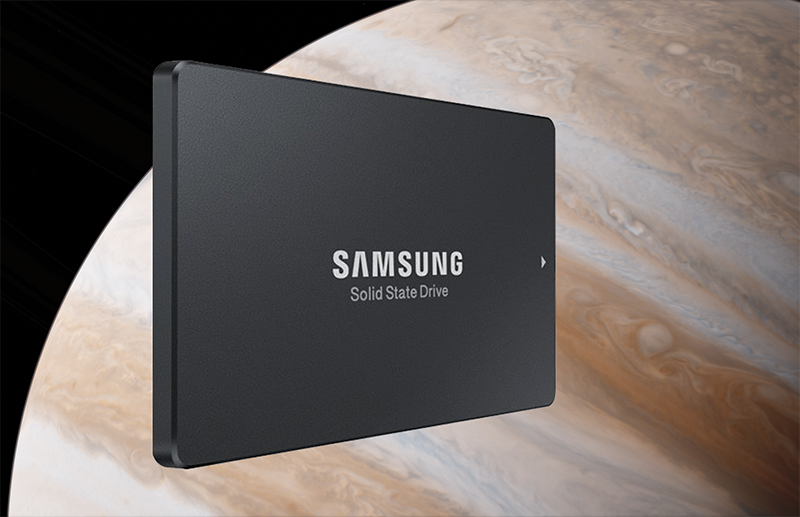 Could we have bought less expensive SSDs?
The quick answer is: yes!
Other web hosting companies use cheaper SSDs, and to be fair to them, they're generally perform OK for hosting. Note the 'generally' there.
The computer storage market is a good example of 'getting what you pay for'. Even though our storage has multiple levels of redundancy, we don't want our SSDs to have any issues, ever.
We also want our storage to be as fast as possible without sacrificing reliability. Some of the less well-known (and less expensive) brands of SSD do have quality issues.
In the end, we're risk-averse at MEGABIT.
We supply a premium product: many of our customers are web professionals who value quality hardware. You can get cheaper hosting, but it won't have the same level of speed and reliability that we offer. To get premium performance, you need to invest in the best.
Stacking up with 3D V-NAND
NAND is the type of non-volatile flash memory that SSDs use, and refers to the Not/AND logic gate that they are named-after. Samsung 3D V-NAND version 4 is one of the most notable features on the SM883. Although other companies now use 3D NAND, Samsung was one of the pioneers.
The '3D' and 'V' refers to the arrangement of the memory cells within the drive, which store the digital data. SSD memory was architected as 2D planar NAND, previously. The cells were laid out across the die of the chip in the X and Y direction: two dimensions.
3D NAND is where the memory cells are stacked vertically ('V') as well. Samsung stack 32 cell layers. While this third dimension provides extra space, it also keeps the total chip die size the same, so manufacturing costs are not increased in proportion to the storage gains.
So you get more dense, faster memory in the same wafer of silicon.
Endurance and power consumption
Another way that the SM883 memory cells are different are that they use a technology called Charge Trap Flash (CTF) instead of the older floating gate transistors.
I won't go into detail on this, as it would probably need its own article (and maybe a degree in electronics! Wikipedia: Charge Trap Flash).
Again, this process allows chips to be more dense, while also using less power and being more durable than their predecessors.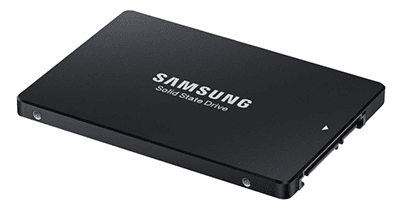 Multi-Level Memory
The SM883 uses Multi Level Cells (MLC). This means there are two bits stored in each memory cell. You can get Triple Level Cells (TLC), which store 3 bits, but these are more power-hungry and waste more energy, and we take our environmental impact seriously. They also wear out more quickly.
TLC SSDs are better for some tasks: such as high-performance enterprise cloud computing, but for serving websites and apps, MLC is more than enough.
It allows for sequential read speeds of 540 MB/s and sequential writes of 520 MB/s, with random read/write speeds being 97K/29K IOPS respectively.
Storage capacity: why 960 GB?
The SM883 is available in sizes ranging from 240 GB to 3.84 TB. The 960 GB model we went-for has plenty of space.
We didn't go with the larger 3.84 terabyte version, since multiple drives work better in a RAID configuration, as in our data centres. This way, they're faster and have more redundancy.
Low latency and consistency
The SM883 delivers where it counts. Despite working all hours, every day, performance remains consistently low latency, with high Quality of Service.
When combined in RAID configurations with multiple drives, small differences in IOPS can multiply and lead to errors or slowdowns. The SM883 delivers an exceptional level of performance accuracy above 99% in random read, as well as great performance in random write, thanks to its mercury controller.
It's made of strong stuff: tantalum capacitors give it enterprise-grade power-loss protection. Advanced Error Correcting Code and End-to-End Data Protection monitors the data in real time to make sure that none of the bits go missing.
It has Thermal Guard Protection to keep it cool, and we're able to monitor the drives for any issues using its Self-Monitoring, Analysis and Reporting Technology (S.M.A.R.T).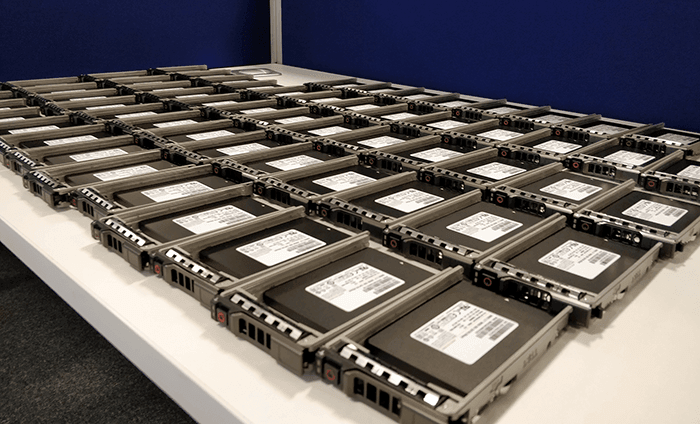 3+ Device Writes Per Day
No, this isn't a really slow speed: it's a measure of its reliability.
Device Write Per Day (DWPD) is the amount of times a disk can be written-to, to its full capacity, over time. The SM883 is warranted be filled to capacity with data 3.6 times a day over five years. In normal use in our data centres, it's unlikely that the SSD will ever receive that level of punishment.
The future
We haven't had any SM883s – or their predecessors, the SM863s – fail in live operation (touch wood!) so we're really happy with their performance.
Yet technology moves on, and as such, we need to move with it. We look forward to 64-Layer 3D NAND becoming more widely available. We're also keeping an eye on the QLC (4 bits/cell, instead of 2) offerings that are coming out.
In the future, will we continue to use Samsung SSDs? Despite a lot of this article sounding like an advert for Samsung (!), we aren't associated or partnered with them in any way. We don't have blind loyalty to the brand.
If and when something better comes along, then we'll certainly consider it.
But at least for now, we're really happy with the performance of the SM883s.
We hope you enjoy their benefits too: faster loading websites!
Technology, hosting, webhosting
13 Users Found This Useful